The Second-High Level forum of South-South and Triangular cooperation for Sustainable Development (SSTrC) themed: Building National Capacities for South-South Triangular Cooperation Ecosystems in Africa, Forging Horizontal Partnerships for Sustainable and Resilient Societies, commenced today in Kampala, Uganda.
The two day forum, organised by the Government of Uganda, the United Nations Development Programme (UNDP) and the Africa Peer Review Mechanism (APRM) Continental Secretariat, aims to promote and strengthen collective self-reliance among developing countries through the exchange of experiences, strengthen developing countries' capacity to identify and analyse their main development issues, formulate the necessary strategies to address them, increase and improve communication between developing countries, leading to greater awareness of a common problem.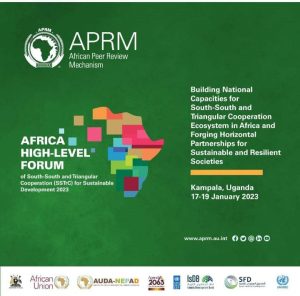 In attendance are high-level dignitaries including: Ms. Elsie Attafuah, Resident Representative, UNDP-Uganda, Eng. Azzam Al-Barrak, Director of East and South African Operations, Saudi Fund for Development, Amb. Dr. Samori Okwiya, Chief Executive Officer, NEPAD/APRM Kenya Secretariat, Ms. Xiaojun Grace Wang, Director a.i UNOSSC, Prof. Eddy Maloka, Chief Executive Officer, Africa Peer Review Mechanism Continental Secretariat, Hon. Amara Kallon, Deputy Minister of Public Political Affairs & APRM Focal Point, Sierra Leone, Mr. Peter Kimemia, Director APRM & Governance and other development partners.
The two-day forum includes panel discussions, presentations, and roundtable discussions on a range of topics related to sustainable development, including economic development, infrastructure development, and capacity building.
The forum was opened by the Vice President of Uganda H.E Jessica Alupo, who placed emphasis on the values of triangular cooperation in achieving sustainable development in Uganda and South Sudan. Additionally, she reiterated the need for collaboration between development partners to achieve a common goal.
Subsequently, the Prime Minister of the Republic of Uganda, Rt. Hon. Robinah Nabbanja highlighted the importance of triangular cooperation. She specified that the forum is an opportunity for participants to share experience and best practices in triangular cooperation and identify specific areas for further cooperation.
On his side, the Chief Executive Officer APRM Continental Secretariat, Prof. Eddy Maloka, emphasised the need for Africa to relay on itself instead of depending on the rest of the world to remove economic barriers and change from aid recipients to donors. He also said that the forum is a step forward in the on-going efforts of South Sudan and Uganda to foster sustainable development through triangular cooperation.
In conclusion, the forum is expected to put forward a declaration with specific recommendations to support the implementation, monitoring and evaluation of BAPA+40 outcome document in Africa, pursuant to Agenda 2030 and Agenda 2063. Additionally, it is expected to table a set of initiative and key messages to the High-Level Committee on South-South Cooperation (UNGA) to move forward SSTrC Agenda for Sustainable Development at all levels.