Six years ago, Kenya chose to reorganise government ushering in a new era of leadership with all the 47 county Governments taking up the reins in the newly created counties. This became an essential element in deepening local governance as it brought service delivery closer to the citizens, involved citizens in matters that affect them and improved the responsiveness of government to public demands.
On the side-lines of the 9th Edition of Africities Summit in Kisumu, the Chairman of the NEPAD/APRM Kenya Secretariat National Governance Council Prof. Michael Chege, attested the benefits, challenges and the expectation on the delivery of service through Devolution 10 years on. He noted that over the decade, devolved governance has been carefully planned effectively implemented and appropriately managed hence enhanced human development.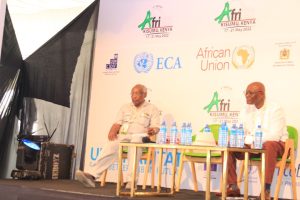 Prof. Michael Chege, Chairperson of the NEPAD/APRM Kenya Secretariat National Governance Council (Board equivalent)  (Left) during the Devolution Journey Session during the 9th Africities summit. 
Additionally, Prof. Michael Chege disclosed that the main challenge facing devolution has been funding. This he mentioned has worsened over the years due to late disbursement and low local revenue. However now, Prof. Chege affirmed that the most difficult immediate challenge is the fiscal consolidation (Under an IMF programme) & BBI's 35% (minimal) share of revenue for devolution.
Consequently, Prof Chege conveyed the need to raise county revenue by 35%. The raise is important for the success and long-term sustainability of Service Delivery in local governments. He acknowledged the county government of Kisumu, noting that it has realized the full potential of devolution through accountable, efficient and effective leadership of the Governor Prof Anyang' Nyong'o.