The Chief Executive Officer, NEPAD/APRM Kenya Secretariat Amb. Dr Samori Okwiya attended the 8th Steering Committee meeting of the APRM in Durban, South Africa.
The objective of the meeting is to prepare for the 32nd meeting of the APRM forum as well as consider the draft agenda of the APRM Focal Points Committee scheduled in February 2023.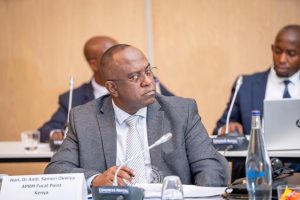 Chief Executive Officer NEPAD/APRM Kenya Secretariat Amb. Dr Samori Okwiya 
Among the items discussed were the outcomes and implementation of decision of the 7th Meeting of Steering Committee held in Sierra Leone as well as update of the Africa Governance Report 2023 and the Targeted Reviews on Unconstitutional changes of Government.
In addition targeted review reports of the Republic of Guinea, Sierra Leone, Lesotho, Chad, Burkina Faso and Niger was discussed.
Lastly, members of the Steering committee meetings of the APRM discussed the draft agenda of the 35th Meeting of the APRM focal points that will participate in the launch of the South African Report and will hold joint sessions with the members of the Peace and Security Council.