The 3rd LAPSSET Ministerial Council Meeting kicked off on17th May, 2023 in Juba, South Sudan with the theme; "Fast tracking LAPSSET implementation for Peace, Growth, Sustainable Development and Regional Integration"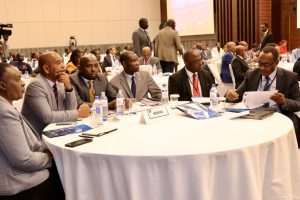 The meeting is hosted by the Ministry of Transport of the Republic of South Sudan in collaboration with United Nations Economic Commission for Africa (UNECA) and the Secretariat.
Hon. Kipchumba Murkomen, Cabinet Secretary, Ministry of Roads and Transport led the Kenya delegation which included H. E Maj. Gen (Rtd) Samwel Nandwa, Ambassador, Embassy of the Republic of Kenya to South Sudan, Hon. Ali Menza Mbogo , Chairman- LCDA, Amb. Dr. Samori Okwiya, CEO NEPAD/APRM Kenya Secretariat, Mr. Stephen Ikua, DG- LCDA and Dr. Alice Yalla, Integration Secretary, Ministry of East African Community, ASAL & Regional Development among other senior officials.
H.E Taban Deng Gal, Vice President of the Republic of South Sudan officiated the opening ceremony.
In his remarks, Hon. Kipchumba Murkomen highlighted the importance of the LAPSSET Corridor in enhancing economic cooperation and regional integration between the three-foot print countries. He reiterated Kenya's commitment to the realization of the LAPSSET vision. The CS underscored the need for the Ministers to deepen communication amongst themselves as well as make joint resource mobilization bids so as to catalyze the implementation of the LAPSSET components.
LAPSSET is an infrastructure project in Eastern Africa that aims to establish connections between Kenya, Ethiopia, and South Sudan through widespread infrastructure development. This project encompasses seven major components including; establishment of a modern port with 32 berths in Lamu, establishment of interregional highways, connecting Lamu to Isiolo, Isiolo to Juba, Isiolo to Addis Ababa, and Lamu to Garsen, laying down crude oil pipelines, implementing standard gauge railway lines, building international airports, developing three resort cities, and constructing a multipurpose high Grand falls dam.
The 3-day meeting brings together government representatives from the 3 foot print countries, the business community, development partners and civil society.