In a significant step towards promoting effective governance and accountability, counties in the North-Rift region, among them; Nandi, Trans-Nzoia, and Elgeyo-Marakwet, have undergone a successful sensitization and training program on the County Peer Review Mechanism (CPRM) facilitated by the NEPAD/APRM Kenya Secretariat. This initiative aims to empower the counties with a comprehensive understanding of CPRM, fostering active engagement and facilitating its successful implementation at the county level.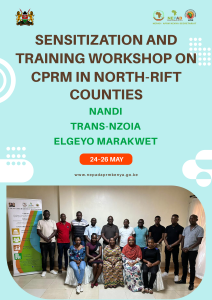 Held in Kisumu City, the sensitization and training workshop acted as a platform to familiarize the newly appointed Governors, County Executive Committee Members, Chief Officers and Researchers on the CPRM process. These participants gained valuable insights into the importance of CPRM and were further equipped with the necessary information and skills to conduct Focus Group Discussions and Key Informant Interviews.
Consequently, they were guided on how to prepare reports, ensuring that they accurately reflect the county's strengths, weaknesses, and areas of improvement. These reports serve as a critical foundation for the subsequent validation workshops, where the findings and recommendations are thoroughly examined.
The sensitization and training workshop conducted by the Secretariat marks a significant milestone in the counties journey towards good governance and accountability. It also equips the counties leadership with the necessary tools to effectively implement CPRM and enhances their understanding good governance and democracy.