New Partnership for Africa's Development (NEPAD) which was adopted in 2002 by the African Union as the continental social-economic framework is an important homegrown tool for the African continent and can be used to consolidate expertise and other resources needed to uplift Africa's economy.
This was said by President Uhuru Kenyatta during the 38th session of the NEPAD Heads of State and Government Orientation Committee (HSGOC) meeting which was held on 25th May 2021 at State House Nairobi, virtually.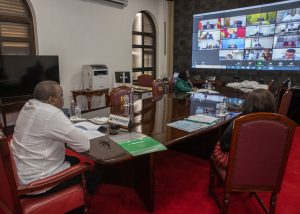 "NEPAD is an important tool that can help mobilize resources for the continent to enable it to achieve tremendous growth in all sectors," the president said.
Additionally, President Kenyatta affirmed the role of NEPAD in promoting and ensuring successful implementation of the Presidential Infrastructure Champion Initiatives (PICI) among them the Lamu Port South Sudan Ethiopian Corridor (LAPSSET) programme.
Photo courtesy of State House- Facebook Page
"LAPSSET Corridor is intended to provide seamless connectivity across the footprint countries and enhance trade facilitation and logistics within the region. The implementation of the corridor is on course and has opened up the northern part of Kenya and the southern parts of Ethiopia and South Sudan"
President Kenyatta also spoke about the African Continental Free Trade Area (ACFTA) initiative stating that its success will enhance freedom of flow of goods and services among African countries which will progressively help Africans achieve sustainable development and complete economic unity.
The head of state urged African countries to work closely in handling future crises and pandemics, adding that such mutual cooperation will enhance the continent's ability to deal with unforeseen predicaments. He also encouraged Africa Heads of State and Government to prioritize the continent's infrastructure projects which will in turn solve the continent's social-economic challenges through accelerated trade and sustained economic growth.
In attendance were Cabinet Secretary for The National Treasury and Planning Amb. Ukur Yattani, NEPAD/APRM Kenya National Governing Council Chairperson Prof. Michael Chege and the Secretariat's CEO Amb. Dr. Samori Okwiya.