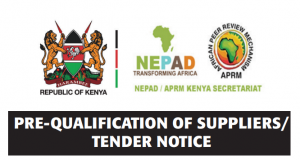 NEPAD/APRM Kenya Secretariat is in the process of pre-qualifying Suppliers/Contractors for the supply/provision of various Goods, Works and Services for a two-year period ending 30th June 2023.
Interested and eligible Suppliers/Contractors specializing in the various categories of supply/provision of goods and services as listed in the tender document linked below are invited to apply for prequalification.
Completed pre-qualification data and other requested information shall be submitted so as to reach:-
The Chief Executive Officer,
NEPAD/APRM Kenya Secretariat,
Box 46270-00100, Nairobi.
Not later than 10.00 a.m. (Local time) on 25TH  MAY, 2021   
Download the Tender Document here