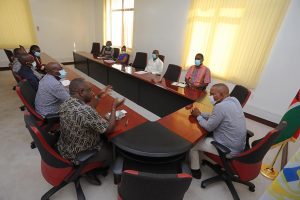 The Secretariat met the County Government of Mombasa yesterday to discuss the rollout of the County Peer Review Mechanism in the county.
Led by the C.E.O Amb. Dr. Samori Okwiya, the Secretariat met Dr. William Kingi, the Deputy Governor of the County Government of Mombasa to discuss the modalities of the peer review mechanism.
Mombasa county is among the pilot counties selected for the peer review which aims at achieving good governance in the counties. It borrows its methodology from the Africa Peer Review Mechanism (APRM) which is the continental self-assessment program of the Africa Union (AU) for African Heads of State and Governments.
Dr. Kingi affirmed the county's commitment to good governance practice and is looking forward to being peer-reviewed.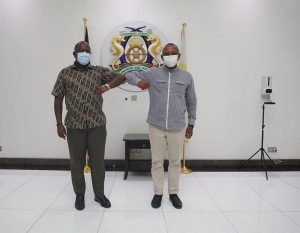 CEO Amb. Dr. Samori Okwiya (left) posses for a photo with H.E. Dr. William Kingi, the Deputy Governor of County Government of Mombasa