The country is in the preliminary stages of having it reviewed on the Big 4 Agenda by the Africa Peer Review Mechanism (APRM).
A team drawn from the continental APRM Secretariat in Midrand, South Africa is in the country for a sensitization meeting with NEPAD/APRM Kenya Secretariat on the targeted review.
The APRM Conducts five types of reviews namely:
       Base Review: Carried out immediately, once a country becomes a member of the APRM
       Periodic Review: Every four years
       Requested Review: Requested by the member country itself outside the framework of mandated reviews
       A Review commissioned by the APR Forum: When there are early signs of pending political and economic crisis
       Targeted Reviews– A new approach to deepen reviews and enhance the relevance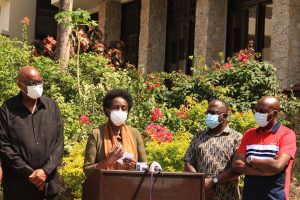 Kenya's case
This review is a thematic review; it doesn't involve a review of the four APRM themes which are Democracy and Political Governance, Economic Governance and Management, Corporate Governance, and Socioeconomic Development.
Dr. Hope Kivengere, APRM Panel Member in charge for Kenya addresses the press at a Mombasa hotel on Kenya's targetted review. She is joined by APRM Continental Secretariat's CEO Prof. Eddy Maloka (far left) and NAKS CEO Amb. Dr. Samori Okwiya (second from right) and NAKS Director of APRM & Governance Mr. Peter Kimemia.
Kenya will be reviewed on the Big 4 Agenda (affordable housing, manufacturing, universal health care, and food security).
The implementation of the Big 4 Agenda aims at directing investments to the projects and policies that will accelerate economic growth and transform lives by creating jobs, enabling Kenyans to meet their basic needs, improve health standards, improve living conditions, lower cost of living, and reduce poverty and inequality under the agriculture, manufacturing, health and housing sectors.
H.E. President Uhuru Kenyatta, during the launch of Kenya's 2nd Country Review Report (CRR) at State House, Nairobi in March 2019, expressed his desire to undertake a targeted review on the Big 4 Agenda and cross-cutting issues identified in the CRR report. This process will culminate into the President being peer-reviewed in February 2022 during the AU Summit before his term in office ends.
Namibia, Djibouti, Zambia, and Sierra Leone have had their countries undergo a targeted review. Other states expected to have the targeted review are Uganda, Ghana, and Senegal.