Plans are underway to expand the 1.4 kilometers long Isiolo International Airport runway to 2.8 kilometers that can handle six Code 'C' aircraft, the airports' authority has said.
Mr. Jeremiah Oguta, Building Technician Engineer with Kenya Airports Authority (KAA) based in Isiolo International Airport, confirmed this when he met with a team from NEPAD/APRM Kenya Secretariat led by the Secretariat's CEO Amb. Dr. Samori Okwiya at the airfield's offices today.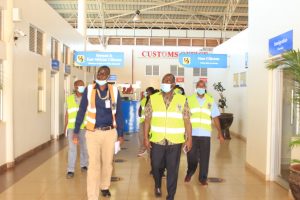 Additionally, Mr. Oguta affirmed that the expansion of the runway will grow the potential of the airport to accommodate bigger capacity aircraft and handle more cargo.
In his remarks, Amb. Dr. Samori Okwiya opined that the expansion of the runway will open the north-eastern circuit and enhance trade within the frontier region.
Mr. Jeremiah Oguta (left) leading the Secretariat's team led by CEO Amb. Dr. Samori Okwiya (right) in an inspection tour of Isiolo International Airport.
The Secretariat is on a monitoring and evaluation exercise of the LAPSSET Corridor programme in northern Kenya. In the next few days, the team will monitor and evaluate the Isiolo- Moyale highway and the One-Stop-Boarder Post in Moyale before concluding the exercise.
The LAPSSET Corridor Project will strengthen Kenya's position as an access and a transport and logistics hub to East and Central Africa. This will facilitate Africa's Continental Free Trade Agreement and promote regional economic integration.