The Principal Secretary, National Treasury and Economic Planning, Mr. James Muhati has officially introduced a nine-member Panel of Eminent Persons who will preside over the first ever peer reviews among Governors through the County Peer Review Mechanism (CPRM), on 29th September, 2023 at the Kenya School for Monetary Studies in Nairobi, Kenya.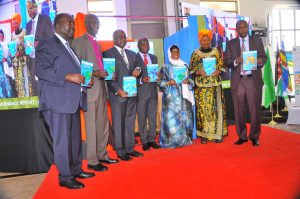 CPRM Panel of eminent persons with the PS, National Treasury and Economic Planning, Mr. James Muhati and the CEO, NEPAD/APRM Kenya Secretariat, Amb. Dr. Samori Okwiya
The panel has been charged with the responsibility of presiding over County Peer Reviews through the County Peer Review Mechanism (CPRM). The County Peer Review Mechanism initiative is a first in the African continent where sub-national governments will peer review each other with the objective of enhancing service delivery performance in the counties.
The County Peer Reviews are pitched at the level of Governors in a process that mirrors the African Peer Reviews where Heads of State and Government peer-review each other. The Eminent Personalities are volunteers and their primary mandate is to lend integrity, objectivity and credibility to the reviews and ensure that they remain people-centred and responsive to the needs of the citizens. Up to 11 Governors are scheduled to be peer-reviewed before the end of this year so that H.E William Ruto, the President of the Republic of Kenya, can report to his peers at the AU Summit early next year.
The Panel comprises of; Archbishop (Rtd) Eliud Wabukhala, former Chairperson Ethics and Anti-Corruption Commission, Prof. Olive Mugenda, Chairperson of the Board of Directors at the Kenyatta University Teaching Referral and Research Hospital, Amb. Rukia Ahmed Subow, Former Kenya Ambassador to Iran Former Chairperson Maendeleo ya Wanawake, Amb. Dr. John Kakonge, President of the Association of Former International Civil Servants and former Kenya ambassador to Geneva, Dr. Josephine Kulea, Founder of Samburu Girls Foundation, Dr. Wanjiru Kamau, Founder, President and CEO of Africa Immigrants and Refugees Foundation, Dr. Hassan Bashir, Executive Director, Agent for Inclusive Insurance Development, Mr. Pete Ondeng, former CEO, NEPAD/APRM Kenya Secretariat and Mr. Salesa Adano Abudo, Commissioner, Teachers Service Commission.