Kilifi County government submits to be peer-reviewed under the County Peer Review Mechanism.
Governor Amason Kingi has voluntarily submitted to the review sighting that it will help in ensuring that counties can learn and share best practices development and good governance.
Additionally, he noted that through the peer review process the gains made by devolution will be adequately captured objectively and as a result, Kenya's growth and development will be noticed at an international level.
He confirmed this when he met a team from the NEPAD/APRM Kenya Secretariat which was led by Chief Executive Officer Amb. Dr. Samori Okwiya in his offices in Kilifi town today. Kilifi County is among the pilot counties selected for the peer review which is a governance program by the  Secretariat.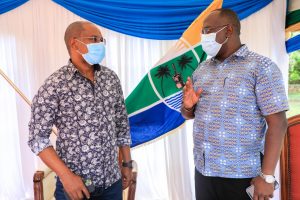 In his remarks, the CEO sighted that Governor Amason Kingi (Kilifi) was present at the Governor's meeting held in 2017 to adopt the peer review mechanism in counties, and he is well aware of the benefits of the review.
Gov. Amason Kingi (left) have a tete-a-tete with CEO Amb. Dr. Samori Okwiya
The Secretariat's Director of APRM and Governance Mr. Peter Kimemia gave a brief history of how Kenya acceded to the Africa Peer Review Mechanism process in 2003 where the first review report was done in 2006. The report commended Kenya for steady economic growth and high levels of literacy. However, it highlighted corruption and poor diversity management which sadly led to the Post Election Violence in 2007/2008 as the greatest challenges that the country needs to work on.
In 2017, Kenya was reviewed for the second time making her the first country in Africa to be reviewed twice. The 2017 review reports highlight the gains made by the State including the promulgation of the new constitution in 2010, the introduction of devolved system of government to enhance more representation of the people, creation of Huduma Centers which offer all government services to the population at a single spot and M-PESA which has sparked economic growth through easy mobile money transfer.
The CEO was also accompanied by Mr. Erick Kiilu, Ag. Director NEPAD Programmes, Mr. David Yalla, Deputy Director CPRM, and Mr. Frankline Kaburu the Communications Manager.