The Cabinet Secretary, The National Treasury and Planning -Hon. Ukur Yattani earlier on today hosted a delegation from African Peer Review Mechanism Continental Office in South Africa.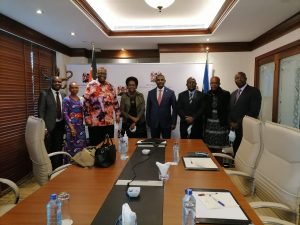 The delegation comprised of Prof. Eddy Maloka Chief Executive Officer APRM, Hon. Dr Hope Kivengere APRM Panel Member in charge of Kenya, Mr. Dias Bongo Senior Advisor to the CEO APRM, Ms. Janet Mabwa, Targeted Review Coordinator APRM Continental Secretariat, Ms. Tsakane Mhlaule Communication Officer, APRM Continental Secretariat and Mr. Germain Tshinu Research Assistant, Country Review Unit- APRM.
Cabinet Secretary Amp. Ukur Yattani (fourth from right) poses for a group photo with Prof. Eddy Madoloka (third from left) and Amb. Dr. Samori Okwiya (third from right) after meeting the APRM Delegation in his office today.
The team was led by NEPAD/APRM Kenya Secretariat – Amb. Dr. Samori Okwiya, the Secretariat's CEO who was accompanied by Mr. Peter Kimemia, Director in charge of the Secretariat's APRM and Governance Directorate.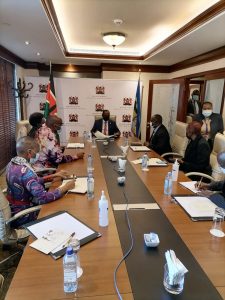 The delegation are in the country for preliminary discussion on Kenya's preparedness to undertake a targeted review of theBig Four Agenda.
The targeted review will help the country measure the performance and progress, as well as key objectives and indicators identified in the four key areas of review mainly; affordable housing, expansion of manufacturing, food security & nutrition and affordable healthcare.
The ultimate output of the initiative will be to establish a process that enhances and refocuses on the review exercise which will provide African Countries with an independent, credible and legitimate analysis of solutions to specific questions, needed to address governance and developmental challenges.
Later on today, the delegation is expected to meet members of the NEPAD/APRM Kenya Secretariat National Governing Council at the Secretatiat's Board room in Nairobi.