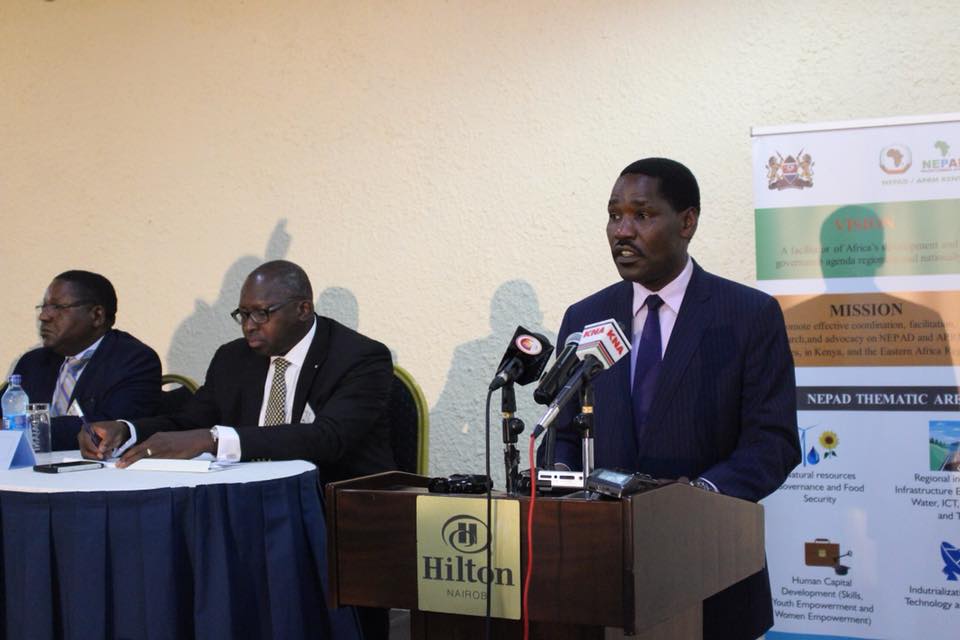 Dignitaries from Africa, under the auspices of the African Union's NEPAD Agency, in collaboration with the NEPAD/APRM Kenya Secretariat, converged on Nairobi for the Technical Task Team workshop to deliberate on the way forward for the Presidential Infrastructure Champion Initiative (PICI). PICI is a platform created to accelerate regional infrastructure development across Africa through political championing of projects
The workshop, which was opened by Hon. Peter Munya, Cabinet Secretary, East African Community and Northern Corridor Development, brought together relevant stakeholders to prepare the Comprehensive PICI Project Status Report that will be submitted to the NEPAD Heads of State and Government Orientation Committee (HSGOC) for onward transmission to the July African Union Assembly.
In attendance were development partners, from the United Nations Economic Commission for Africa (UNECA), the African Development Bank (AfDB) and representatives from the Economic Community for West African States (ECOWAS), Southern Africa Development Community (SADC), and Inter-Governmental Authority on Development (IGAD). Participants were drawn from Kenya, Algeria, Egypt, Nigeria, Congo, Rwanda, Senegal, South Africa and Namibia.
Progress achieved in the development of various projects under PICI across the continent was highlighted. These projects include:
Missing Links on the Trans-Sahara Highway and Optic Fibre Link between Algeria and Nigeria via Niger by President Abdelaziz Bouteflika of Algeria;
The Nigeria-Algeria Gas Pipeline Project (Trans-Sahara Gas Pipeline) by President Muhammadu Buhari of Nigeria;
Dakar-Ndjamena-Djbouti Road/Rail Project by President Macky Sall; North-South Corridor Road/Rail Project by President Cyril Rhamaphosa of South Africa;
Kinshasa-Brazzaville Bridge Road/Rail Project by President Denis Sassou Nguesso;
Unblocking Political Bottlenecks for ICT Broadband and Optic Fibre Projects Linking Neighbouring States by President Paul Kagame of Rwanda;
Construction of Navigational Line between Lake Victoria and the Mediterranean Sea by President Abdel Fattah el-Sisi of Egypt;
Lamu Port Southern Sudan-Ethiopia Transport Corridor Project by President Uhuru Kenyatta of Kenya.
CS Munya informed participants that the Lamu Port South Sudan Transport (LAPSSET) project was on course and that major milestones had been achieved noting that the three berths being developed by the Government of Kenya at the Lamu Port were now 48% complete. The CS further said that LAPSSET is just not for the three countries but is a continental project by all standards as it feeds into existing ones such as the great North Corridor from Cape Town to Cairo.
In his remarks made on his behalf by NEPAD Kenya Ag. CEO Mr. Daniel Osiemo, Dr. Julius Muia, PS State Department of Planning, reiterated the importance of cross-border infrastructure for unlocking development potential. The PS further said that PICI is playing an important role of accelerating regional infrastructure development and commended NEPAD for its great work and commitment towards Africa's integration.