The NEPAD/APRM Kenya Secretariat is participating in Devolution Conference 2023 in Uasin Gishu County.
The first biennial conference is convened under the theme; 10 Years of devolution: The Present and the Future' and the sub-theme: Driving Transformation from the local level: County Governments as the Centre of economic development.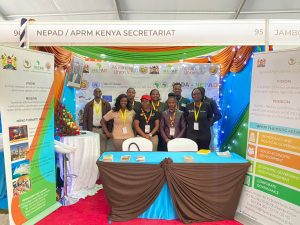 Participants from NEPAD/APRM Kenya Secretariat during Devolution Conference 2023
The Conference was officially opened on 16th August, 2023 by H.E President William Ruto and graced by dignitaries from all 47 counties and a diverse array of stakeholders who deliberated and shared knowledge on the advancements achieved during the past decade since the implementation of devolution.
The NEPAD/APRM Kenya Secretariat being an advocate for; sustainable development and good governance on the African continent, is participating this year to underscore its dedication of supporting local-level initiatives that contribute to Kenya's overall development agenda.
Consequently, as Kenya continues its journey towards devolution, participation of the Secretariat in Devolution Conference 2023 serves as a testament to the collaborative efforts required for driving transformation at the local level. By engaging in constructive dialogue and knowledge sharing, attendees aim to develop strategies that promote inclusive sustainable development and good governance across the nation.
Moreover, the Secretariat through its exhibition booth number 95, improved the spotlight on its ongoing programmes among them; The County Peer Review Mechanism. This mechanism stands as a platform for the sharing of experiences and the reinforcement of best practices, leading to political stability and effective governance. Additionally, the mechanism aids the enhancement of national unity at the grass roots, thereby pushing the progress of political stability and democracy. Currently, this initiative is in full swing, with a notable participation of 11 counties.
In conclusion, the conference provided an invaluable platform for sharing insights into the details of NEPAD and APRM achievements, functions, mandates, and ongoing programmes.