The NEPAD/APRM Kenya Secretariat is currently undertaking County Peer Review Mechanism is in Elgeyo Marakwet County.
This initiative involves extensive deliberations and assessments through Focus Group Discussions and Key Informant Interviews in all 20 wards among them: Chepkorio, Kabiemit, Metkei, Tambach, Soy North, Soy South, Lelan, Kapyego, Moiben/Kuserwo, Kapsowar, Sambirir, Embobut/Embolot, Emsoo, Kapchemutwa, Kamariny, Kaptarakwa, Aror, Endo, Cherangany/Chebororwa, and Sengwer.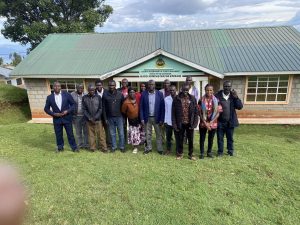 Participants of Emsoo Ward during FGD and KIIs in Elgeyo Markwet County
The activity undertaken by officers from NEPAD/APRM Kenya Secretariat is set to foster the tenets of transparency, accountability, and the dissemination of exemplary practices across all 14 devolved functions of the County, so as to elevate the quality of public service delivery for the betterment of the county's populace.