Today: Ms. Denisa Mockova, the Development Cooperation Counsellor and Mr. Jan Petrus, the Economic counsellor at the Embassy of the Slovak Republic in Kenya paid a courtesy visit to Amb. Dr. Samori Okwiya, the CEO NEPAD/APRM Kenya Secretariat.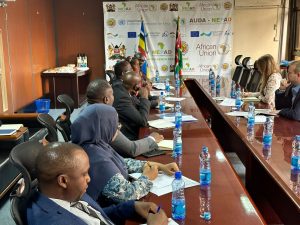 Deliberations ongoing at the NEPAD/APRM Kenya Secretariat office in Nairobi, Kenya
The focal point of their deliberations centered around the NEPAD and APRM initiatives, with a keen emphasis on the County Peer Review Mechanism, Midwifery, blue economy and women empowerenent initiatives.
Through the Midwifery program, NEPAD has so far fostered training programs for midwives on maternal health and safe childbirth. Additionally, by prioritising the blue economy the Secretariat aims to unlock opportunities for coastal communities and leverage marine resources for the benefit of the entire continent.
The deliberations led to a consensus to explore common ground in the realm of Sustainable initiatives and development.
More photos below