NEPAD/APRM Kenya Secretariat has successfully undertaken Focus Group Discussions on County Peer Review Mechanism in all 30 wards in Mombasa County
County Peer Review Mechanism is a voluntary Governance Self-Assessment tool adopted by Kenyan counties with the main objective of facilitating the exchange of experiences, reinforcement of best practices, identification of deficiencies, and improvement of governance. CPRM further paves way for policies, standards, and practices that promote political stability, robust economic growth, and sustainable development.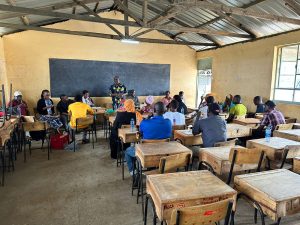 Amb. Dr. Samori Okwiya, Chief Executive Officer, NEPAD/APRM Kenya Secretariat giving his opening remarks during the County Peer Review Mechanism, FGDs in Mombasa County
To kick start the activity, Amb. Dr. Samori Okwiya, the Chief Executive Officer NEPAD/APRM Kenya Secretariat briefed the participants and emphasised on the importance of citizen participation in good governance. He further urged the participants to be sincere and rate the county truthfully in provision of devolved functions. He later summarised by assuring the panel that recommendations from the citizens will be in the final report and that the integrity of the process shall not be altered or compromised.
Consequently, he commended Mombasa County's decision to subject itself to peer review, underscoring the positive impact the move is expected to have on the county's sustainability and overall development. He noted that the activity will foster transparency, accountability, and credibility within its governance framework, thus enhancing the quality of services provided to its constituents.
The Secretariat has so far undertaken CPRM in 12 pilot counties. These are: Busia, Vihiga, Kakamega, Machakos, Siaya, Trans-Nzoia, Makueni, Elgeyo Marakwet, Nandi, Mombasa, Nyeri and Bungoma