The Chief Executive Officer NEPAD/APRM Kenya Secretariat Amb. Dr Samori Okwiya attended a distinguished Steering Committee Members meeting to deliberate on the work of AUDA-NEPAD in South Africa on May 6, 2022.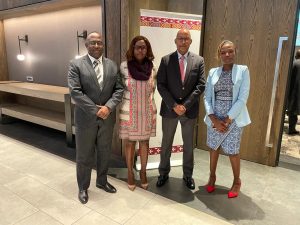 L-R Amb. Dr Samori Okwiya CEO, NEPAD/APRM Kenya Secretariat, Ms. Rebecca Arunga, Deputy Director NEPAD Programmes, Dr. Ibrahim Mayaki, Outgoing CEO AUDA-NEPAD, Ms. Hellen Muthoni Legal Officer, NEPAD/APRM Kenya. 
During the meeting, the participants deliberated on the need to identify gaps and provide guidance on the way forward for better and effective delivery of AUDA NEPAD's mandate in the continent.
Subsequently, Amb. Dr Samori witnessed the handover ceremony of the outgoing Chief Executive Officer, Dr Ibrahim Mayaki.
Dr. Mayaki congratulated the incoming Chief Executive Officer Ms. Nardos Bekele as she takes up the role, and affirmed his confidence that she will continue to implement AUDA-NEPAD's mandates. Consequently he thanked the NEPAD/APRM Kenya Secretariat for its continued support to the implementation of the agency's programmes.