The birth of the Organisation of African Unity (OAU) came to light following the signing of the charter in Addis Ababa on 25 May 1963 by African leaders. President Kwame Nkrumah of Ghana and Emperor Haile Selassie of Ethiopia played the prominent role and were endorsed by thirty (30) independent African states that had met in Addis Ababa, Ethiopia with the goal to bring about change, freedom and independence to African Countries.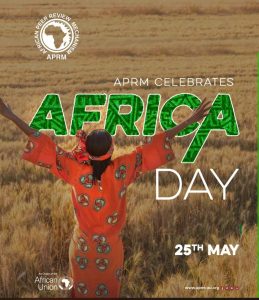 Fifty-nine (59) years down the line, Africa day is observed and symbolises the dream of the African fore fathers who believed and championed for African unity, and who are remembered greatly for their historic Pan-African movement. Observed annually on 25th May, Africa day celebrates the socio-economic achievements of the continent and acknowledges the success of the African Union from its creation on May 25, 1963 to date.
The theme this year's Africa day is Strengthening Resilience in Nutrition and Food Security on the African Continent.'' Consequently, this aligns with the NEPAD/APRM Kenya Secretariat's thematic area on the governance of natural resources and food security and the broader agenda on Comprehensive Africa Agriculture Development Programme (CAADP) that champions to increase investment and productivity in the agricultural sector. The aim is to achieve annual agricultural growth rates of more than 6 per cent as a means of promoting food security and economic development.
Through this programme, the Secretariat aims at accelerating the transformation of Africa's agricultural systems to stimulate improved and sustainable performance, contribute to food security, economic growth and inclusive development.
The NEPAD/APRM Kenya Secretariat and Kenya at large remain committed to the commitments, goals and aspiration of the African Union and on this auspicious occasion observes, African day as the day of Pan-Africanism.
                                                               Happy Africa Day
Africa Day Poster Courtesy – APRM Continental Secretariat