Africa Day is celebrated every year on 25th May, after African Leaders signed the charter that founded the Organisation of African Unity (OAU). This momentous event, led by H.E the former President of Ghana, Kwame Nkrumah and the former Emperor of Ethiopia, Haile Selassie, marked the beginning of a united Africa, driven by the desire for change, freedom, and independence. Additionally, this day highlights the immense potential and achievements of the African continent. Today, The NEPAD/APRM Kenya Secretariat joins the World to wish you all a happy Africa Day.  Themed; Accelerating the Implementation of the African Continental Free Trade Area (AfCFTA)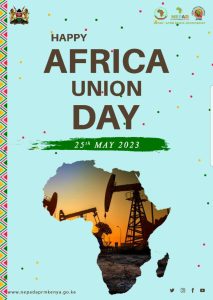 The AfCFTA stands as a key initiative within Agenda 2063: The Africa We Want. This trade agreement encompasses various crucial aspects of Africa's economy, including digital trade and investment protection, among other areas. With its comprehensive scope, the AfCFTA aims to remove trade barriers within Africa, ultimately fostering a substantial increase in intra-African trade. Particularly, it seeks to enhance trade in value-added production and facilitate trade across all sectors of the continent's economy. The NEPAD/APRM Kenya Secretariat plays a pivotal role in coordinating the implementation of the AfCFTA at national level.
Additionally, this year's theme is in line with the Secretariat's thematic area on; Regional Integration, Infrastructure (Energy, Water, ICT, Transport) and Trade, which encompasses, the Programme for Infrastructure Development in Africa (PIDA). This has emerged as a crucial framework for the advancement of regional integration, infrastructure, and trade on the continent.
Moreover, under the aforementioned thematic area is the Presidential Infrastructure Champion Initiative (PICI). The Secretariat took the lead in advocating for the inclusion of the LAPSSET Project in the PICI category of the African Union.
This elevated the project's status, aligning it with eight other high-priority continental infrastructure projects championed by Heads of State and Government. Additionally, the secretariat has made tremendous effort in the amalgamation of the LAPSSET regional body. This was achieved during the 3rd LAPSSET Ministerial Council Meeting held in South Sudan. The meeting endorsed a series of resolutions aimed at expediting the implementation of the LAPSSET corridor project and advancing the country's infrastructure development.
These above-mentioned programmes under NEPAD demonstrates the Secretariat's commitment, goals, and aspirations of the African Union. As we commemorate Africa Day, let us reflect on the journey we have travelled and the milestones we have achieved. It is a time to celebrate our progress, but also to acknowledge the challenges that lie ahead by fostering unity, embracing diversity, and collaborating across borders, to build a prosperous Africa.