H.E President Uhuru Kenyatta has officially opened the 9th Africities Summit which is currently underway in Kisumu county.
Themed; the role of intermediary Cities of Africa in the Implementation of Agenda 2030 of the United Nations and the Africa Union Agenda 2063.
The Summit brought together different African Heads of States and Government, Delegates, Leaders in Civil Society, Private Sector, academia and thousands of participants from around Africa and beyond. The Participants will for the next five days discuss matters and roles of intermediary cities of Africa in the Implementation of Agenda 2030 and Agenda 2063.
Discussions on Devolution, Good Governance, transformation of urban centres, economic recovery post Covid-19 and limiting of carbon emission in cities, took centre stage. These discussions revolve around the goals and objectives of the NEPAD/APRM Kenya Secretariat in promotion of sustainable development. The aforementioned objective unleashes the potential of intermediary cities in fostering an inclusive recovery in development. Further, through the Secretariat's County Peer Review Mechanism, Intermediary cities are able to enhance good governance and pioneer initiatives that spur industrialisation progress.
During his opening speech, H.E President Uhuru Kenyatta reaffirmed the Summit's resilience and shared how it will accelerate the unity of Africa by creating linkages in nations and cities around Africa. Additionally, he reiterated that the 9th Africities summit will aid the delivery of an achievable roadmap to implement programmes geared towards improving the lives of Citizens among them; Sustainable Development Goals, social economic development initiatives and the Big Four Agenda (Manufacturing, Affordable Housing, Universal Health Coverage, Food Security)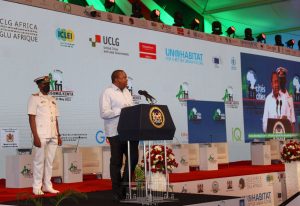 H.E President Uhuru Kenyatta during the opening of the 9th Africities Summit.
Photo Courtesy – State House
Consequently, H.E President Uhuru Kenyatta acknowledged that time is right for scaling up the role of intermediary cities as the next frontiers of Africa's urbanisation and development. This he noted is effective in the host city (Kisumu), which is currently a home to approximately 174 million people representing about 36 per cent of the country's urban population and contributing to about 40% of the country's Gross Domestic Product.
Subsequently, he challenged the Africa Heads of State to make intermediary cities sustainable and fit for all citizens in order to achieve the goals of the 9th Africities Summit.
Similarly, the Chairperson of the African Union Commission H.E Moussa Faki underscored the need for scaling up intermediary cities as the next frontier of development in Africa.