The NEPAD/APRM Kenya Secretariat, under the leadership of Amb. Dr. Samori Okwiya, Chief Executive Officer, held a consultative meeting with the County Government of Uasin Gishu and Moi University School of Nursing and Midwifery. The primary focus of the discussion was the need to conduct a baseline survey on the status of midwifery in Kenya. The survey is aimed at exploring best practices on midwifery, evaluate existing structures and accessories facilitating quality midwifery, gather mothers' experiences, and identify barriers and facilitators influencing quality midwifery in Kenya.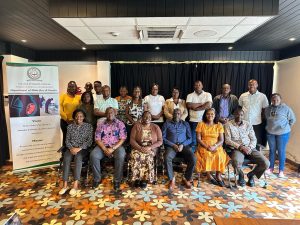 Team From NEPAD/APRM Kenya Secretariat led by Amb. Dr. Samori Okwiya, together with County Government of Uasin Gishu and Moi University School of Nursing and Midwifery officials.
Amb. Dr. Samori Okwiya emphasized the importance of continuous engagement to explore potential opportunities for partnership, ensuring the promotion of quality midwifery practices in Kenya. He also highlighted the need for the team to leverage available technological opportunities during the partnership.
Dr. Evans Kiprotich, Director of Health Services in Uasin Gishu County, affirmed the county's commitment to collaborate with the team, offering technical support as necessary to achieve the established goals. Dr. Evans mentioned Governor H.E Jonathan Bii's dedication to enhancing health services in the county, aligning with the objectives outlined in the County Integrated Development Plan.
Moi University Dean School of Nursing and Midwifery, Prof. Dinah Chelangat, expressed satisfaction with the Secretariat's commitment to collaboration in improving the quality of midwifery services in Kenya. They assured their willingness to provide technical support for the baseline survey.
The meeting further identified various partnership opportunities aimed at strengthening health systems by enhancing nurses' and midwives' competence and skills, thereby improving the delivery of high-quality primary health care services. This aligns with the overarching goal of fully implementing the AUDA-NEPAD Project on Nursing and Midwifery Education in Africa.