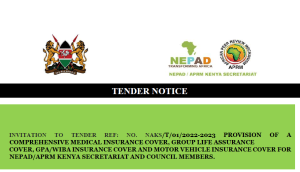 NEPAD/APRM Kenya Secretariat (NAKS) invites sealed tenders from eligible bidders to provide comprehensive Medical Insurance Cover, Group Life Assurance Cover, GPA/WIBA Insurance Cover, and Motor Vehicle Insurance Cover for Staff and Council Members.
Interested eligible bidders may obtain further information and inspect the tender documents from the Procurement Officer, NEPAD/APRM Kenya Secretariat, State house Avenue, Liaison House 4th Floor, Nairobi between 9.00 am to 4.00 pm Monday through Friday, upon payment of a non-refundable fee of Five thousand shillings (Kshs 5,000/-) in cash deposit to NEPAD/APRM Kenya Secretariat Account for the set of tender document.
Completed tender documents are to be enclosed in plain sealed envelopes, marked with the tender number and name, and deposited in the tender box provided at the NEPAD/APRM Kenya Secretariat Offices, Liaison House,4th floor, State House Avenue, NAIROBI, or be addressed to:
Chief Executive Officer,
NEPAD/APRM Kenya Secretariat
Liaison House, 4th Floor,
P.O.BOX 46270-00100.
NAIROBI.
So as to be received on or before 19TH July 2022 at 10.00 A.M