African Union (AU) day is celebrated every 9th of September to integrate member states to achieve a prosperous and peaceful Africa.
Themed; The Arts, Culture and Heritage: Levers for Building the Africa We Want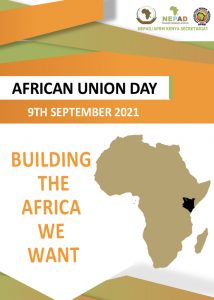 AU was launched on 9th July 2002 during the Durban Heads of State Summit, following a decision by the Organisation of African Unity (OAU) to create a new continental organisation to build on its work. The transition from OAU to AU was intended to inter alia, accelerate and deepen the process of economic and political integration on the continent and focus more on propelling African States towards peace and prosperity.
Currently, the AU is headed by His Excellency the President of Democratic Republic of Congo (DRC) Felix- Antoine Tshisekedi Tshilombo.
The 24th African Union summit which was held in Addis Ababa Ethiopia in January 2013 adopted the Agenda 2063, a continental strategic framework aimed at transforming Africa into a global powerhouse of the future. The NEPAD/APRM Kenya Secretariat was tasked to track the country's progress on implementing the goals of Agenda 2063.
Consequently, in a bid to accelerate the implementation of Africa Continental Free Trade area (ACFTA), which was launched in 2018, the Secretariat undertook a monitoring and evaluation on the integration roads from Sirare/Isbania-Ahero, Malaba – Busia -Kisumu -Ahero and Kitale- Kainuk, Kitale to the Kenya-Uganda border at Suam. The Secretariat noted that progress has been achieved in the construction of the various linking roads which are envisaged to improve regional integration and trade facilitation between Kenya, Tanzania, Uganda, South Sudan and Ethiopia through the promotion of regional integration.
The African Union governs the following purposes;
• To promote the Unity and solidarity of its member states
• To coordinate and intensify their cooperation and efforts to achieve a better life for the people of Africa
• To defend their sovereignty, their territorial integrity and independence
• To eradicate all forms of colonialism from Africa and
• To promote International Cooperation.
The Secretariat and Kenya at large remain committed to the commitments, goals and aspiration of the African Union.