The NEPAD/APRM Kenya Secretariat today joins the world to celebrate the importance of developing skills of young people on youth skills day 2021. The theme this year is Re-imagining Youth Skills Post-Pandemic.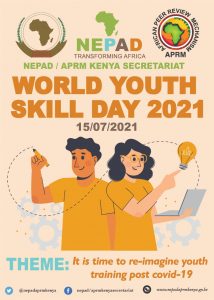 Youths form the largest part of Kenya's population and during the first, second and third waves of Covid-19, the pandemic took a devastating toll on them with others losing jobs and livelihoods and others being exposed to personal risks such as teenage pregnancies, alcohol and drug abuse.
As the day's theme says, the world now wants to look beyond the damages caused by the pandemic and build a plan that will equip young people with relevant skills to be able to stand on their own during this challenging period.
Through the thematic area of the Secretariat (Human Capital Development Skills) and programs such as the Youth Training and Education, the Comprehensive Africa Agriculture Development Program (CAADP) and the program for Infrastructure Development in Africa (PIDA), youth's talents and relevant skills have been recognized which pulls them from the abyss of poverty to using their skills to make a living.
The skills initiative for Africa that was launched by the Secretariat in partnership with the Ministry of Education on 5th May 2017 has promoted occupational prospects of young Africans through the support of innovative skills development programs. In addition, the secretariat's Africa Peer Review Mechanism (APRM) program gives the youth an opportunity to express their ideas on issues of governance through public participation in line with the four thematic areas which are Democracy and Political Governance, Economic Governance and Management, Corporate Governance, Socio-economic Development and cross-cutting issues such as youth unemployment.
Therefore, it is about time to accelerate youth empowerment by complementing their skills through capacity building programmes, in order for them to benefit from new employments opportunities and diversify their talents.
                                                        NAKS COMMUNICATION