A delegation from South Africa Local Government Association led by CEO Mr. Rio Nolutshungu, is currently participating in a benchmarking exercise at the NEPAD/APRM Kenya Secretariat from 28th – 30th August, 2023. This exercise represents a pivotal stride in fostering collaborations aimed at enhancing governance, improving municipal administrative methods and advancing socioeconomic development.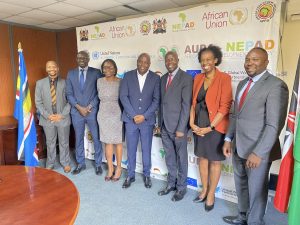 L-R Mr. David Yalla, Deputy Director APRM & Governance, Ms. Sibongile Santi, Senior Manager: Research, KM, Innovation and IA, Mr. Peter Kimemia, Director APRM & Governance, Mr. Rio Nolutshungu SALGA Chief Officer: Municipal Capabilities & Governance, Ms. Rebecca Arunga, Deputy Director NEPAD Programmes, Mr. Maxwell Zange, Director Corporate Services and Mr. Mvuyisi April, Manager: Strategic Support & Information Analytics. 
During their visit, the team received an in-depth briefing on the Secretariat's organizational framework, directorates, mandates, and programmes. They further engaged in a fruitful exchange of best practices and identified areas of synergy, particularly on areas of capacity-building initiatives intended to boost the skills and competencies of local government authorities and peer reviews.
Additionally, SALGA had the opportunity to gain insights into the Peer Review processes undertaken by the Africa Peer Review Mechanism, with focus on County Peer Review Mechanism (CPRM); CPRM is a voluntary, governance assessment tool that mirrors the Continental African Peer Review Mechanism (APRM) and enables counties to identify and address challenges in their governance systems. Additionally, CPRM aims to elevate the principles of good governance, accountability, transparency, and civic participation among counties.
Through this visit, SALGA envisions developing and implementing a Peer Review model tailored to municipalities in the Republic of South Africa, thereby fortifying their governance systems.
In conclusion the collaboration between SALGA and NEPAD/APRM Kenya Secretariat carries immense potential to catalyse improvements in governance, service delivery, and socioeconomic development throughout the African continent. As these two organizations work together to exchange knowledge and implement best practices, they are laying a robust foundation for a more promising and prosperous future for African nations.