NEPAD/APRM Kenya Secretariat has successfully conducted a comprehensive Risk Management Training and Public Officers Ethics Act (POEA) Sensitization for its staff, in order to strengthen its operational efficiency and ensure the seamless flow of programmes and activities. The training further aimed to equip employees with the necessary skills to proactively identify, assess, and mitigate potential risks that could potentially impede the Secretariat's ongoing initiatives.
Led by Amb. Dr. Samori Okwiya, Chief Executive Officer, the staff diligently embraced risk mitigation measures while keeping their primary objectives in mind. By expertly balancing these efforts with the associated benefits they yield, the Secretariat ensured the optimization of resources in terms of cost, time and quality.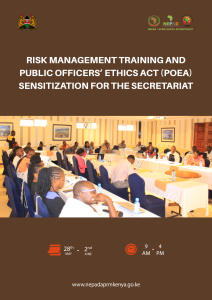 One of the key takeaways from the training was the understanding that risk management should be an integral part of every program and activity undertaken by the Secretariat's various directorates, including NEPAD programs, APRM & Governance, and Corporate. It emphasized the importance of incorporating risk management from the inception of a programme and continuing its implementation until its successful completion.
Consequently, by adopting these proactive strategies, the NEPAD/APRM Kenya Secretariat is poised to achieve remarkable success in completing its diverse programmes and activities within the allocated budget and timeframe. Implementing risk management practices within the Secretariat not only shields it from potential disruptions but also enhances overall organizational effectiveness.
Moreover, by sensitizing its staff on the Public Officers Ethics Act (POEA), the NEPAD/APRM Kenya Secretariat fostered a culture of transparency, integrity, and accountability. This knowledge equips public officers with a solid ethical foundation, enabling them to fulfil their duties professionally and uphold the highest standards of governance.
In conclusion, the Risk Management Training and Public Officers Ethics Act (POEA) Sensitization conducted for the NEPAD/APRM Kenya Secretariat marked a significant step towards ensuring the successful completion of its programs and activities. By embracing proactive risk management strategies and adhering to ethical principles, the Secretariat empowered its staff to navigate potential challenges and fulfil their responsibilities with utmost professionalism.