The Principal Secretary, National Treasury and Planning Mr. James Muhati today paid a courtesy visit to NEPAD/APRM KENYA Secretariat in efforts to familiarise himself with the Secretariat's mode of operation and procedures.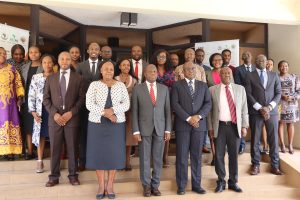 First Row; L-R Ms. Katherine Muoki, EPS National Treasury and economic planning, Mr. James Muhati, Principal Secretary, National Treasury and Economic Planning, Amb. Dr Samori Okwiya CEO NEPAD/APRM Kenya Secretariat, and Director Administration, Economic Planning 
Mr. Muhati was accompanied by the Economic Planning Secretary Ms. Katherine Muoki and received by the Chief Executive Officer NEPAD/APRM Kenya Secretariat Amb. Dr Samori Okwiya and the Director Corporate Services, Mr. Maxwell Zange.
Subsequently, Mr. Muhati was taken through the Secretariat's organisation structure and the NEPAD and APRM technical programmes that the Secretariat is involved in. Key among them being the LAPSSET Corridor programme, Skills Initiative in Africa, Comprehensive Africa Agriculture Development Programme, the County Peer Review Mechanism (CPRM), Targeted Review Mechanism and the National Governance Report.
In his remarks, the PS commended the Secretariat for the progress made towards fulfilling its mandates of enhancing good governance and democracy and promoting sustainable development.
"Indeed, the government is aware that the NEPAD/APRM Kenya is a mirror of the Country at the African Union (AU) and the Continent. Therefore, your functions are paramount both at the National and Continental level and need to be anchored on a strong legal framework. This means that the current legal status of the Secretariat needs to be strengthened to allow smooth and un-interrupted operations.
Consequently, the PS commended the secretariat for coordinating and hosting of the 7th Programme for Infrastructure Development in Africa (PIDA) week in Kenya which among others managed to raise the visibility of the LAPSSET programme and attract the necessary visibility from the private sector to invest in the programme.
In conclusion the PS encouraged the secretariat to continue with the same dedication and promised to work closely with the CEO to ensure that the legal framework of the secretariat is reconsidered.