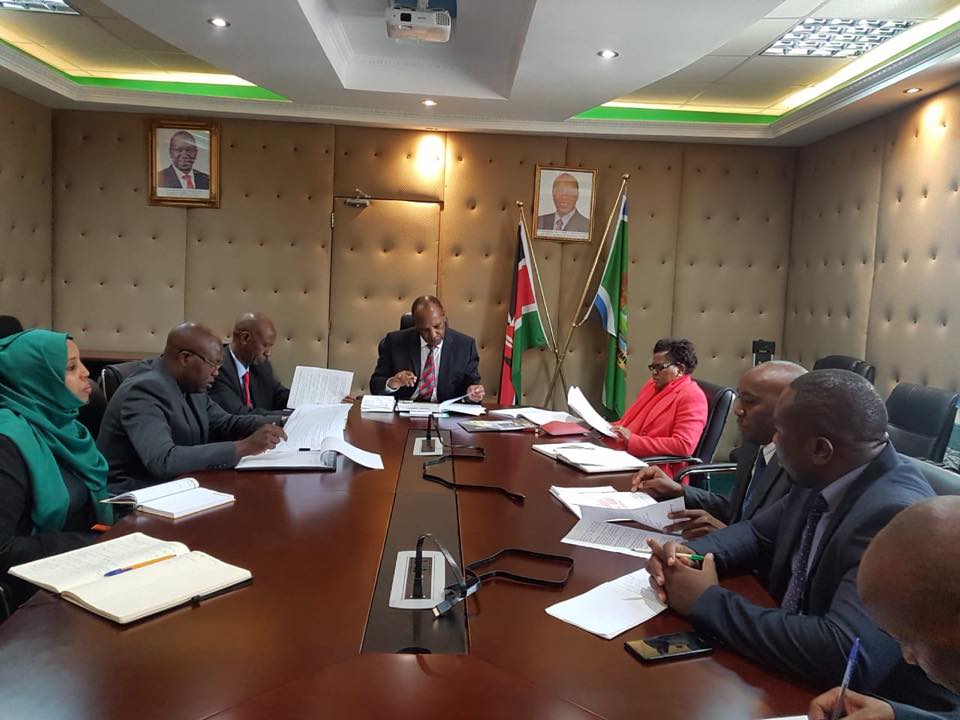 The African Peer Review Mechanism (APRM) team held deliberations over the County Peer Review Mechanism (CPRM) with H.E. Governor Francis Kimemia of Nyandarua County. The Governor who was accompanied by his DG, H.E Cecilia Mbuthia and three CECs gave the Team useful insights regarding how best the CPRM can be implemented for the good of the local citizens.
While committing to strongly support the initiative, Governor Kimemia urged the Team to among other things, use the Mechanism to imbue in the Counties a brand of professionalism that would take service delivery performance to a higher level. He decried the weak structures and systems that tend to undermine efficiency, lack of appreciation of the doctrine of separation of powers and unnecessary wrangles between Executives and oversight institutions.
He expressed hope that the Mechanism will foster greater understanding among institutions within county governments as well as between the two levels of government. Ultimately, pointed out the Governor, good governance and improved service delivery will be heavily dependent on the professionalism of those charged with the various responsibilities.
He lauded the Team for the effort in customizing the APRM tool for use in the counties and for the commitment to improve governance and service delivery in the counties through the use of the peer review model. The APRM delegation was led by the Director APRM and governance, Mr. Peter Kimemia who assured the Governor that the CPRM instruments will be a product of a rigorous consultative process with numerous stakeholders, especially the county governments, including the County Assemblies. This will ensure ownership, objectivity and effectiveness.