The NEPAD/APRM Kenya Secretariat today, joins the world to commemorate Africa Youth Day, 2023. This day serves as a reminder of the immense value inherent in Africa's youthful population and their active engagement and empowerment as the driving force propelling the continent toward a brighter future.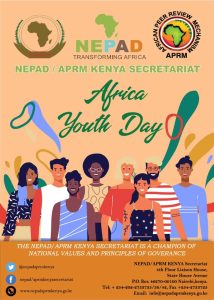 The Secretariat through its thematic area on Human Capital Development recognises the pivotal role that youth empowerment plays. This thematic area underscores a programme known as Skills Initiative for Africa (SIFA). SIFA  responds to Africa's Agenda 2063 which highlights that the future of Africa depends on the abilities, wisdom, talents, and dedication of its young population. Kenya is among the eight pioneering nations in Africa benefiting from the Initiative.  The others include; Cameroon, Ethiopia, Ghana, Nigeria, South Africa, Togo, and Tunisia.
One of the notable facets of this initiative is the Secretariats recent signing of the SIFA Implementation Agreement with Kisii National Polytechnic; through their project proposal "Building Capacity to Deliver Skills Programmes for Agricultural Value Chain". The institution won a grant of 3 Million Euros through a competitive selection. The grant is set to cover construction, rehabilitation/expansion of learning infrastructure, procurement of training equipment, training of trainers, curriculum design and learner scholarships.
Consequently, the initiative reinforces Kenya's dedication to investing in youth demographic, enabling them to play a vital role in the development of projects that are central to the nation's growth and prosperity.
Overall, with the NEPAD/APRM Kenya Secretariat at the helm of Skills Initiative for Africa, the youth have an opportunity to access education, training and employment. These will in turn contribute to the country's economic growth and development while empowering young people to become active contributors to the nation's progress
Happy Africa Youth Day, 2023.