The NEPAD/APRM Kenya Secretariat donated Information Communication and Technology (ICT) equipment to Butere Technical and Vocational Training College in Butere, Kakamega County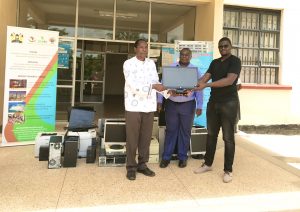 .
L-R Board Chairman, Butere Technical and Vocational College, Prof. Robert Otwiya, Principal Mr. Chanzu Lomolo and NEPAD Senior Programmes Officer George Okoth
While receiving the equipment, the Board Chairman of Butere Technical and Vocational College, Prof. Robert Otwiya, thanked the Chief Executive Officer NEPAD/APRM Kenya Secretariat Amb. Dr. Samori Okwiya, for his patronage in sharing the equipment. He further noted that the rationale for using information and communication technology (ICT), technologies for the processing and communication of information through voice, sound and images in the institution will prepare all students for participation in the information society.
Consequently the Principal of the Institution Mr. Chanzu Lomolo applauded the Secretariat's support as he expressed his eagerness in the participation of the next Skills Initiative for Africa (SIFA) window. SIFA is an initiative of the Africa Union Commission (AUC) supported by the German government in several African Countries, which contributes to the employment orientation skills development for young people.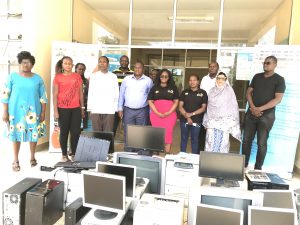 Additionally, Mr. Lomolo said that Incorporating ICTs, particularly computers, into teaching and learning in education will increase the students quality, speed and ease their written output.
Butere Technical and Vocational Training College offers Artisan, Certificate, Diploma and Degree courses. So far the college has 1,700 students