Kenya has on 3rd December 2021, officially launched the Targeted Review of the Big Four Agenda, among them Affordable Housing, Affordable Healthcare, Food Security, Manufacturing and Development, in Naivasha Nakuru County.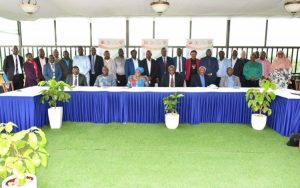 Seated; L-R Ferdinand Katendeko, Chief of Staff APRM Continental, Amb. Dr. Samori Okwiya, Chief Executive Officer, NEPAD/APRM Kenya Secretariat, Amb. Dr. Inonge Lewanika, APR Lead Panel Member, Hon. Eric Wafukho, CAS National Treasury & Planning, Prof. Michael Chege, NEPAD/APRM National Governing Council Chairman
The Ceremony was graced by the Chief Administrative Secretary National Treasury & Panning Hon. Eric Wafukho who noted that H.E President Uhuru Kenyatta submitted to the Targeted Review of the Big Four in quick succession to the 2nd Country Review Report of 2017. Additionally, Hon. Wafukho said the Head of State considers this review an important ingredient to the pursuit of Vision 2030.
Speaking at a press conference In Naivasha on 3rd December 2021, The CAS reiterated the need for African Peer Review Mechanism (APRM) member states to continue sharing experiences on how to tackle the cross-cutting governance challenges such as Corruption, Gender Inequality, Youth Unemployment and Diversity Management, which are common challenges to the countries.
Consequently, the Lead Panel for Kenya Amb. Dr. Inonge Lewanika commended the Kenyan government for its commitment to the APRM Process.
"Kenya is the first country among the APRM Member States to be peer-reviewed by the Heads of State twice. The first review (base review) was done in 2006, and the second review (second generation) was done in 2017. To this, we sincerely appreciate the commitment of the Government of Kenya to the APRM Process, and further applaud Kenya for always leading other APRM Member States."
Further, the NEPAD/APRM Kenya Secretariat, National Governing Council (NGC) Chairman, Prof. Michael Chege alluded that, through the Targeted Review mission, Kenya's Democracy will be deepened and in turn enhance transparency and accountability in governance. This will further enable the country to avert violent conflicts, corruption and waste of public resources.
According to Amb. Dr. Samori Okwiya, the Chief Executive Officer NEPAD/APRM Kenya Secretariat,  the APRM team together with the consultants will venture into the counties across the country where they will be undertaking citizens engagements. This will grant the citizens an opportunity to express themselves regarding the implementation of the Big 4 hence a more effective information dissemination and better dialogue.
The team has commenced the county ventures today (6th December 2021) in Lamu, Narok and Uasin Gishu Counties.
Kindly follow our twitter and Facebook handles for more information on what will be happening in the various counties.
Twitter @nepadaprmkenya
Facebook nepad/aprmkenyasecretariat