The first High-Level Peer Review Forum on South-Sudan and Triangular Cooperation Themed: Building agile and resilient societies in Africa kicked off yesterday in the Capital of the Arab Republic of Cairo,Egypt.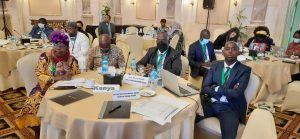 R-L: Communications officer, Mr. Frankline Kaburu, NEPAD/APRM Kenya Secretariat, Chief Executive Officer,Amb. Dr. Samori Okwiya, Director APRM & Governance Mr. Peter Kimemia, and Executive Secretary, Madam Florence Juma.
The two-day High-Level Forum is set to generate several proposals for better collaboration between The United Nations Office for South-South Cooperation (UNOSSC) and the Africa Peer Review Mechanism (APRM). These proposals will further institutionalize the partnership between the UNOSSC and the APRM, in which a Memorandum of Understanding (MoU) was signed in 2020.
The Forum has brought together African Policymakers, Senior National Executives and Experts from Africa and the global South Counties. In attendance was the Chief Administrative Secretary State Department of Planning Hon. Erick Wafukho, Chief Executive Officer, NEPAD/APRM Kenya Secretariat, Amb. Dr. Samori Okwiya, Director APRM & Governance Mr. Peter Kimemia, Communications officer, Mr. Frankline Kaburu and Executive Secretary, Madam Florence Juma.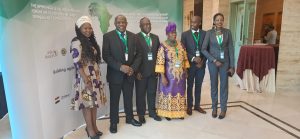 The Forum has recognised Africa Peer Review Mechanism for its transformative work in the promotion of good governance in Africa alongside monitoring and evaluating SDG's and Agenda 2063. In relation to the South-South Cooperation, Africa Peer Review Mechanism affirmed its support in the Implementation of the Buenos Airies Plan of Action (BAPA+40)
Consequently, APRM has made significant contributions to the expansion of South-South Cooperation (SSC) by developing partnerships with institutions outside the African continent to achieve Triangular Cooperation (TrC).
Moreover, APRM has hosted various dialogues on South-South Cooperation and its role in achieving Agenda 2063 where an emphasis was put on the following issues:
The lack of a holistic approach for SSC mainstreaming into national development plan (NDPs)
The absence of data to track SSC's initiatives and results.
The lack of institutional mechanisms among countries of the South to sustain SSC's development outcomes.
The need for transparent monitoring and evaluation framework and methods to assess SSC's impact, the necessity of developing an inclusive approach for stakeholders, and the alignment of SSC projects and plans with local communities needs
The High-Level Forum on SSC and TrC for Africa seeks to address the following issues:
Level of implementation of the BAPA+40 document in Africa to analyze the extent to which SSC has been integrated into National Development Plans (NDPs) and progress made on building national and regional centres of excellence in Africa.
Synergies between national, regional, and international SSC initiatives for implementing Agenda 2063 and SDGs (AUDA-NEPAD)
The role of SSC and TrC in building resilience and responding to the COVID-19 pandemic in Africa; political resilience and solidarity, economic governance resilience, and social inclusion.
The role of Academics and civil society in raising awareness and enhance tracking SSC and TrC in African communities.
Digital and innovative tools for capacity building on SSC and TrC.
The COVID-19 pandemic has also led to various forms of inequality across the world. The High-Level Forum will also reflect on acceleration of Africa's economic transformation through the Fourth Industrial Revolution (4IR), creation of Public Private partnerships (PPE) where all parties will benefit from the gains.
The forum for Africa will focus on the following themes:
Progress towards the implementation of BAPA+40 outcome document in Africa in 2021.
AU resilience approach in the face of the pandemic: SSC initiatives pertinent to governance – resilience nexus; food security, digitalization and knowledge management, migratory flows, and national development planning.
Economic governance and diplomacy against the pandemic. Agenda 2063 promising projects in strengthening the manufacturing capacity of African countries and financial sustainability of African economies
Role of Africa's development partners in promoting national-regional synergies for implementing SDGs and Agenda 2063
National stakeholders' engagement in South-South Triangle Cooperation promotion. The stakeholders will involve the private sector, academia, civil society, women, and youth.